Harnett County Business & Education Partnerships lead to Advanced Arc Welding Curriculum, Certifications at Triton High School
Friday, June 2, 2023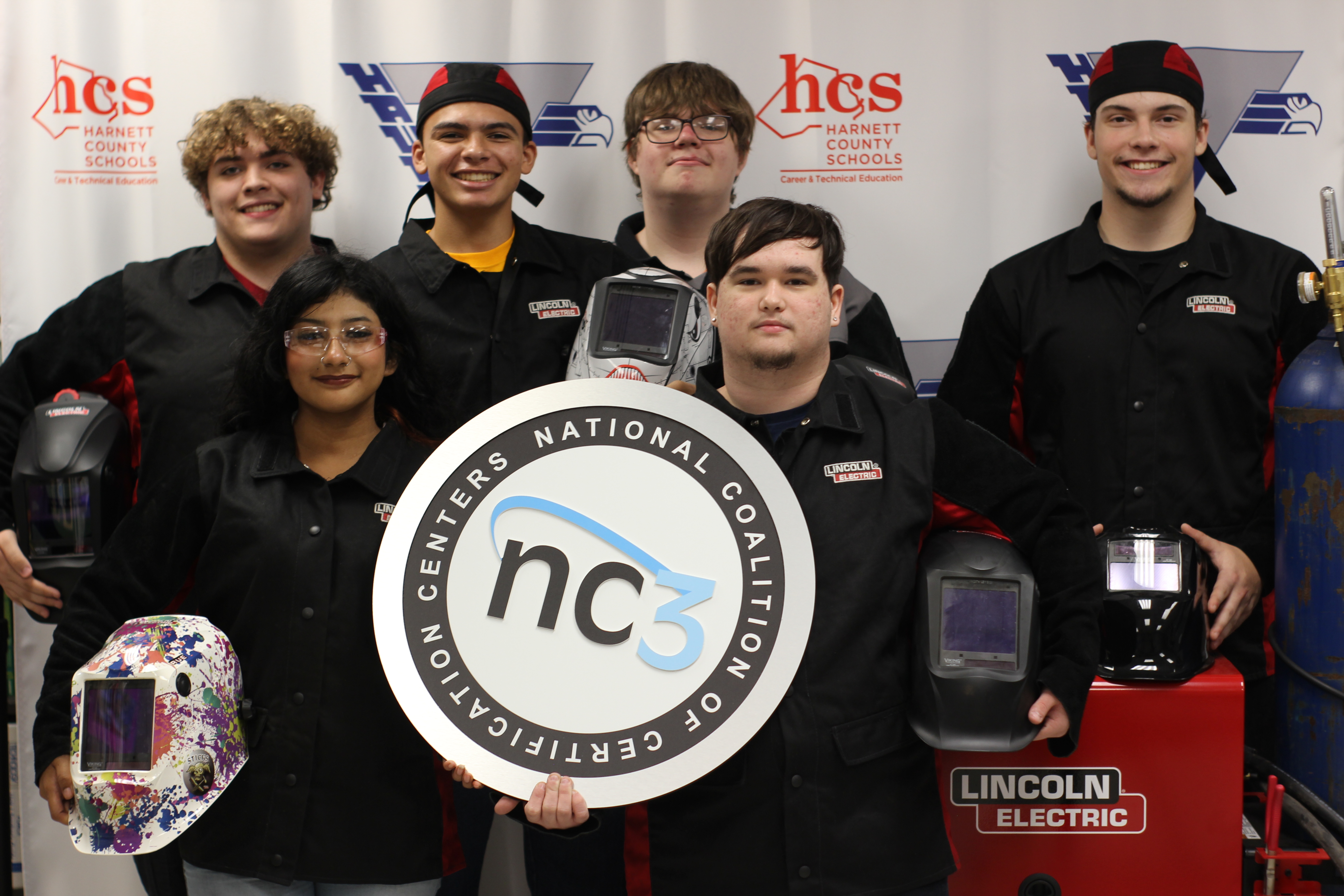 Partnerships are critical to the success of any economic development project. The same is true when considering the dedication and investment in developing the workforce needed to run a business.
Business leaders in the Harnett County community understand the value of partnerships and together, with the faculty and staff at Harnett County Schools, work to create ways to invest in our future workforce.
The Harnett County Business Education Partnership (HCBEP), a private, non-profit organization, consists of dedicated business leaders, educators, and parent volunteers who help students make informed education and career decisions. Through their support of a variety of programs, students have the resources they need to reach their full potential through hands-on learning and skill development both in and out of the classroom.
Support from the HCBEP is invaluable to the Harnett County Schools Career and Technical Education Program (HCS CTE). The knowledge, ideas, community, and industry connections have created industry-specific curriculum, apprenticeship programs, and future career paths for Harnett County students.
In the Summer of 2022, during the HCBEP Annual Retreat, Board Member and Corporate President of The Godwin Group, Pat Godwin Jr., shared certification curriculum news related to the work truck industry. Godwin, Jr. explained that The Association for the Work Truck Industry (NTEA), in collaboration with The Lincoln Electric Company and National Coalition of Certification Centers (NC3), created the Work Truck Industry Welder Certification Program. This certification would be adopted as the credential for the work truck industry, and manufacturer and distributor companies that want to hire, train and retain certified welders should consider implementing this welder certification training program.
According to the NTEA website, one of the most critical issues within the commercial vehicle community is attracting, training, and retaining employees - especially in skilled trades such as welding - due to increasingly high demand. The Lincoln Electric Education Program (LEEPS) for the NTEA program was created to help address this challenge.
For The Godwin Group, America's largest and most experienced family-owned and operated truck equipment manufacturer located in Dunn, this type of curriculum would be a worthwhile investment for their company and students interested in welding.
Lindsey Hardee, School-to-Career Coordinator for Harnett County Schools' (HCS) Career & Technical Education (CTE) Program, suggested that HCS CTE and Godwin Manufacturing work together to create the program at Triton High School. This was not the first time The Godwin Group had partnered with the program. Thanks to their support on behalf of the welding industry, Triton High School had just expanded its agriculture mechanics shop and purchased updated equipment through a Golden Leaf Grant awarded to Harnett County Schools.
"The Godwins supported us from the welding sector on our journey to secure the Golden Leaf grant through HCS to address the local economic needs," said Hardee. "It was a natural fit to join forces again to grow welding in Harnett County."
The growing partnership between Godwin Manufacturing and HCS CTE has also yielded a North Carolina Registered Apprenticeship where The Lincoln Electric Company and National Coalition of Certification Centers (NC3) credential is the education piece.
"Godwin Manufacturing is honored to be part of the LEEPS program at Triton," said Phyllis Godwin, Corporate Vice President of The Godwin Group. "Harnett County Schools have been fantastic to work with on making this happen. We feel it is important to prepare young adults for the work environment to be contributing members of society and have the skill to build a career."
Just prior, in April 2022, the Godwins made it possible for Triton High School Teacher, Andy Cole, to travel to the Lincoln School of Welding in Cleveland, Ohio, where he was trained to teach and certify students in Advanced Gas Metal Arc Welding (MIG) specifically for the Work Truck Industry issued by the Lincoln School of Welding.
Cole returned to Triton High School, where he began recruitment for the inaugural LEEPS (Lincoln Electric Partner School) class. Eight students signed up and the six enrolled - all seniors - successfully earned this certificate through the LEEPS. Leading up to the Advanced GMAW Certificate the students earned certificates in Welding Safety, Principles of Welding, and Introduction to Gas Metal Arc Welding.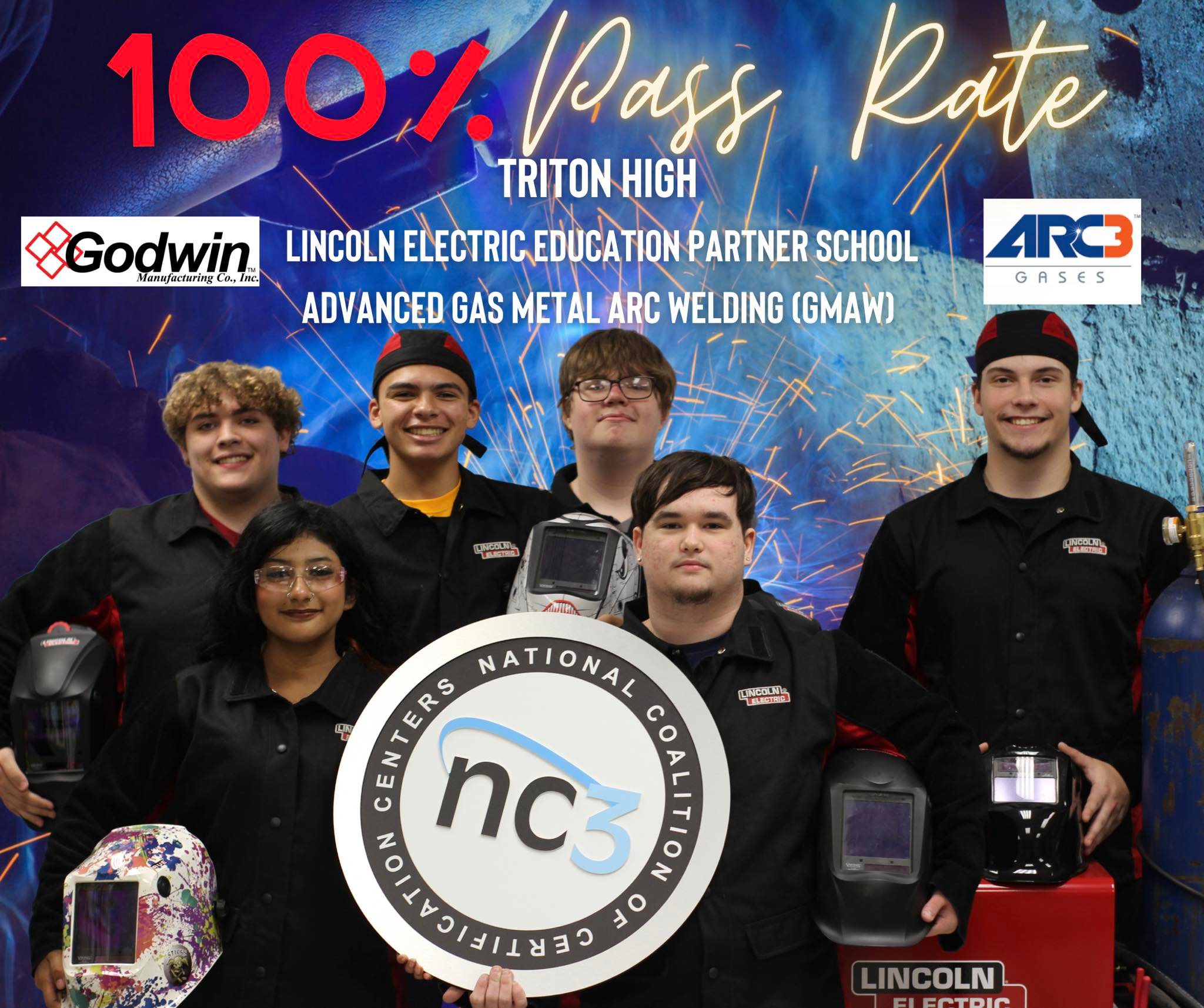 The Inaugural LEEPS Class at Triton High School:(Front row, left to right) Amber Izaguirre, Alex Lassiter. (Back row, left to right) Dylan Williams, Jonathan Herrin, Trevor Moore, William "CJ" Herring.
"This semester we had the first students to enroll into the highly technical and academically rigorous program," said Cole. "Six students started the program and all six completed it!" Cole joked that even adults from the industry struggled to pass the curriculum at Lincoln School of Welding - he included.
Arc3 Gases, a full service supplier of gases and welding supplies, has also been a critical partner for this program. The company, located in Dunn, provided all of the welding gear the students used, and a state-of-the-art machine to bevel metal, which is required to do the welds for this course and the truck body industry.
After the inaugural program's success at Triton High, HCS CTE staff hope to enroll more students into the course and create a pipeline for companies like Godwin Manufacturing and Arc3 Gases to fill their entry-level positions and/or apprenticeships.
"HCS CTE could not have created this program without these partners or HCBEP," said Lindsey Hardee. "We take great pride in our commitment and obligation to address local needs and the formulation of this program is evidence our community can take an idea, put it to action, and see great results."
About Harnett County Schools Career and Technical Education
Career and Technical Education courses are available in all Harnett County high schools, middle schools, and the alternative school. Approximately 10,000 students are currently being served by 98 Career and Technical Education staff members in 75 Career and Technical Education courses in eight different program areas. The mission of Career and Technical Education (CTE) is to empower students to be successful citizens, workers, and leaders in a global economy. CTE programs are designed to contribute to the broad educational achievement of students, including basic skills, as well as their ability to work independently and as part of a team, think creatively and solve problems, and utilize technology in the thinking and problem-solving process. Learn more here.