Inside Leadership Harnett's Business and Industry Day
Friday, July 28, 2023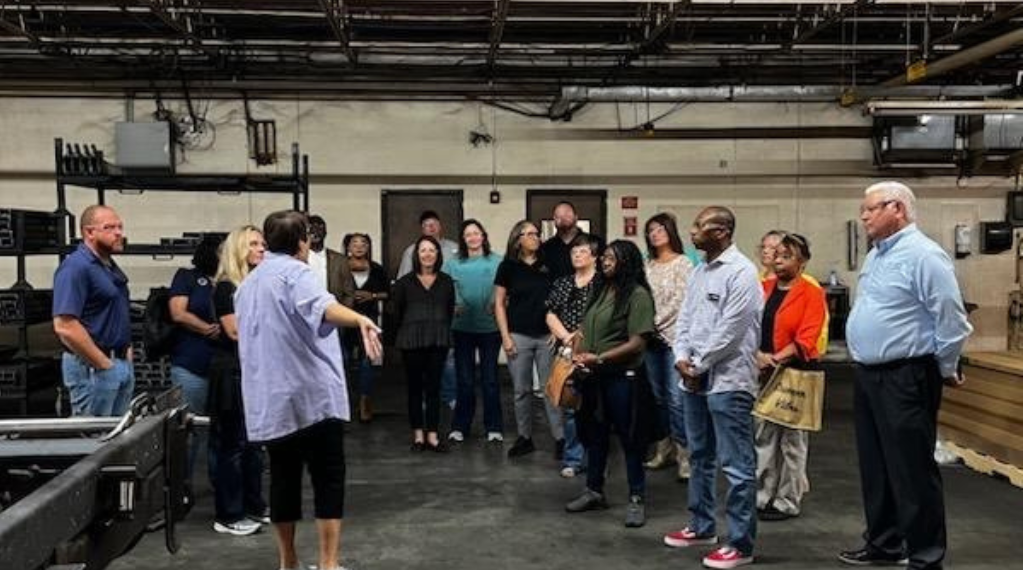 Leadership Harnett has been bringing people together across Harnett County for over 25 years. After a two-year hiatus, the Class of 2023 has hit the ground running, immersing themselves in their community and furthering their commitments to serve in leadership roles both while in the program and as Alumni.
The Leadership Harnett Program is held annually and consists of eight monthly sessions, beginning with a program kick-off in March and ending with a graduation ceremony in October. The program is an example of a successful private-public partnership with its creation as a joint effort between Harnett County Government, the area's chambers of commerce and Campbell University. Today, it is governed by a board of directors consisting of Leadership Harnett Alumni.
Typical monthly sessions include topics on education, the government and judicial systems, health and human needs, recreation and tourism, agriculture, and this month's focus, business and industry in Harnett County.
Harnett County Economic Development had the opportunity to help lead and plan July's Leadership Harnett session, coordinating visits with companies in the County.
On Wednesday, July 26, the class departed from the "County's seat" of Lillington, followed by a trip to Dunn for a presentation and tour of Champion Hoist and Equipment, a hoist manufacturer and affiliate of the Godwin Group. Phyllis Godwin, Corporate Vice President of The Godwin Group, gave the class a presentation and guided tour of the facility.
Next on the class' agenda was a presentation and tour of Dunn's ADUSA/Food Lion Distribution Center. ADUSA Distribution provides supply chain operations for one of the nation's largest omnichannel grocery retail groups. During the tour, Leadership Harnett participants learned more about career opportunities, the care that goes into handling food products before they make it to the store shelves, as well as the work that ADUSA and their associates contribute through volunteerism within the community.
After a full morning of exploring two of Harnett County's existing industries, the group traveled to Angier, where they had the opportunity to meet and hear from Angier's newest Town Manager, Elizabeth Krige. Formerly the Town Manager of Catawba, Krige assumed her role in Angier on July 5. Charity Barbee, Central Carolina Community College's Harnett County Small Business Center Director, was also there to network and share more about the resources available to small businesses in Harnett County.
Following lunch, the class traveled back to Lillington to Boon Edam, a global manufacturer of entrance solutions including security revolving doors and portals, innovative optical turnstiles, ADA-compliant access gates, and robust full height and tripod turnstiles, for a presentation and tour of the company's 200,000+ square foot manufacturing facility.
"Harnett County is home to many thriving businesses and industries, and any time that we (Harnett County Economic Development) have the opportunity to showcase and connect them to our community leaders is wonderful," says Interim Director of Economic Development, Angie Stewart. "Most people drive by these companies but never gain an understanding of the scope of what they do, the many different quality career opportunities they provide, and the positive impact that they have on our community."
Two Harnett County Economic Development department members, Angie Stewart, Interim Director of Economic Development and Becky Parker, Office Coordinator, are also alumni of the program.
To learn more about the Leadership Harnett Program visit www.leadershipharnett.org.